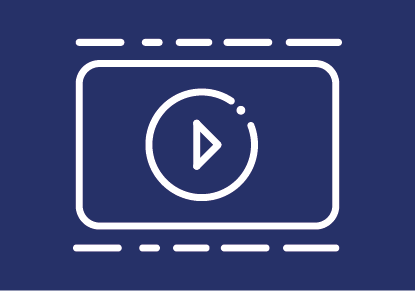 In this user guide, we present features of Webex that might be useful in teaching. We recommend using Webex instead of BigBlueButton (BBB) for larger courses (>100 without camera, >30 with camera). In order to use these features of Webex, you need to have a TUGRAZonline account. 
To activate your access to Webex, navigate to the Webex sign-up page.
When creating an account, the data of the TU Graz user directory will be used. Due to licensing reasons, the e-mail address ending with @tugraz.at, as indicated in your TUGRAZonline business card, is ALWAYS used.
We also recommend installing the desktop app.

Once the app is installed, meetings started via the browser are automatically opened with the app.
Holding a video conference via Webex
If you do not see the button Breakout sessions in the bottom bar yet, open the menu (three dots). Move the slider next to "Enable Breakout Sessions" so that it turns blue. The new Breakout sessions button appears in the menu bar.
Click on this new button Breakout sessions.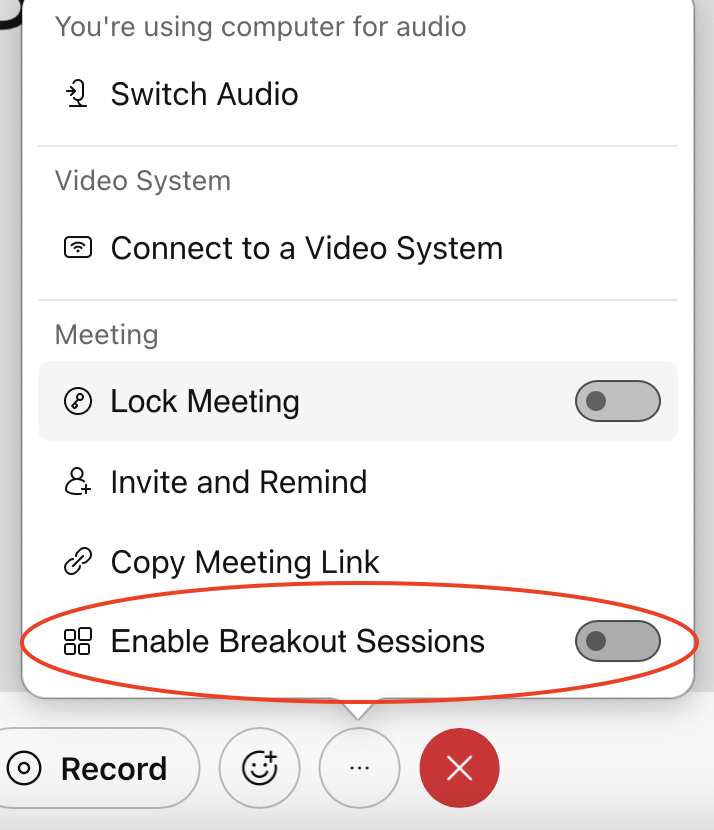 Select, whether participants are
automatically or manually assigned to breakout rooms, or allowed to assign themselves.
how many breakout sessions are to be created.

Breakout session assignments
After clicking Create Assignments, you can rename the rooms and assign participants manually.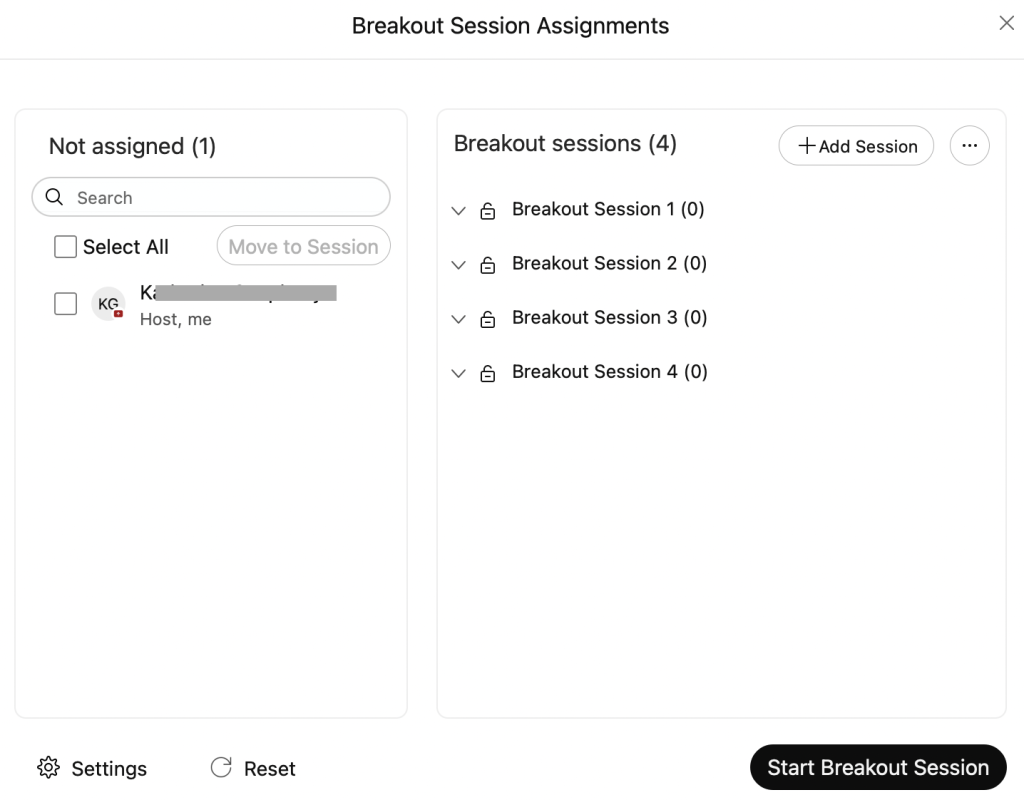 By clicking on Settings, you can change further settings:
duration of the breakout sessions
whether participants are allowed to join the breakout session later
whether participants are allowed to return to the main meeting independently

Further settings for breakout sessions
Participants are automatically moved to breakout rooms when you assign them.
If participants are allowed to choose their own breakout room, they must click on Breakout Sessions > Join Breakout Session in the menu bar at the top and select the desired room.

As a host, you always have an overview of the open breakout sessions and their participants in the menu on the right. You can join these sessions either there or via the Breakout sessions menu.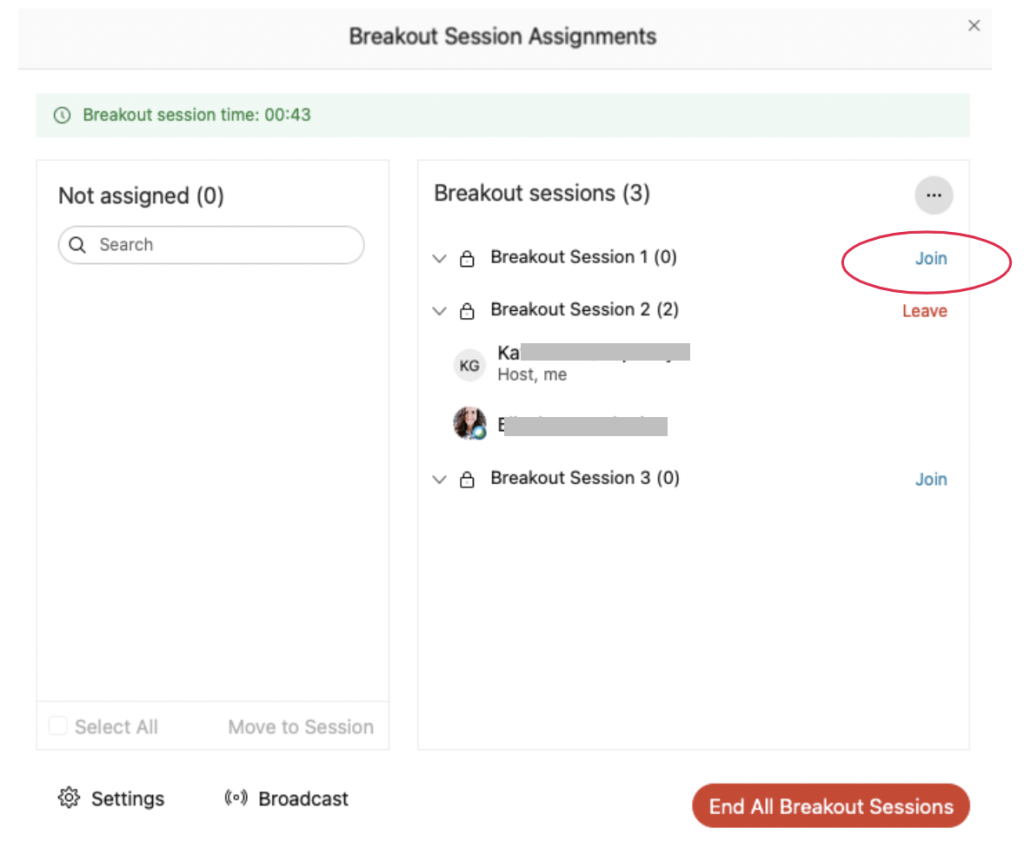 Settings and managing participants during a meeting
In the list of participants, right-click on the person and select Move to Lobby, for example for oral exams while teachers are consulting about the grade.
Above the list of participants you will see who currently is in the lobby. By clicking Admit, you can bring the person back into the meeting.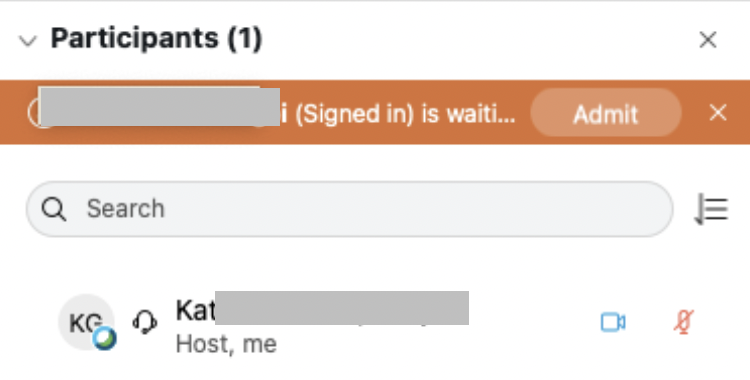 If you forgot a setting when scheduling the meeting, most settings can still be retreived or changed during the meeting.
Meeting Info: In the top right corner you can retrieve the Meeting Info (meeting link, password etc.) at any time.
Participant privileges: You can adjust the participant privileges during the meeting via the menu bar at the top > Participant > Assign Privileges.

Adjusting participant privileges
Lock Meeting: By clicking the three dots in the menu bar at the bottom > Lock Meeting, you can manually lock and unlock the meeting at any time so that no one can join (e.g. after the start of an exam).

Lock meeting
Mute All: At the bottom of the participants list, all participants can be muted at once, e.g. at the beginning of a lecture. You can also specify that participants are automatically muted when they enter the meeting so that latecomers, for example, do not disrupt the lecture.

Microphone and muting options
Licensed under a Creative Commons Attribution CC BY 4.0 International

TU Graz Educational Technology